Due to the widespread demand for video marketing content, a process known as voice-over localization was developed to record voices for such content in several languages. Video helps your business grow by attracting new customers and assisting you in selling more products and services to current customers. It can increase profitability and help to increase order size. Your video and video script are excellent. To effectively deliver your words, all you need is professional voice-over talent. As you are well aware, finding the ideal voice talent to represent your company is crucial. It can make or break any marketing video. In light of this, don't you believe it's critical to locate a local professional voice-over for your business?
Voice-over localization is a challenging task. There are numerous processes and difficulties in it. Due to the numerous procedures involved in voice-over localization projects, effective management is essential. A professional voice-over must be employed to ensure that the video marketing content is properly localized.
In locating or selecting a local professional voice-over near you, you must consider the following: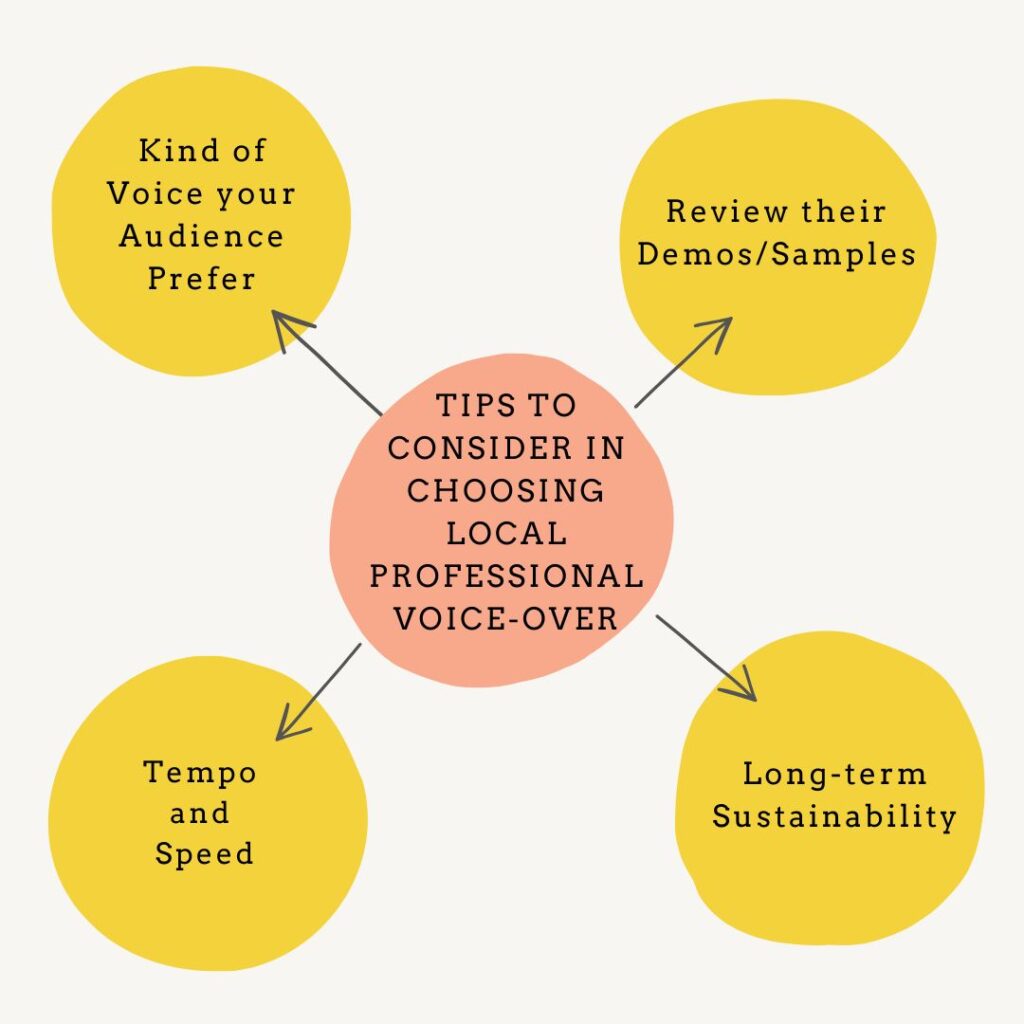 What kind of voice does your target audience prefer?
In the same way, as actors have a variety of acting styles, so do voice-overs. Different voice-over talents will deliver more cheerful, energetic reads than others, others of them will be more laid-back. Some people have specific accents. Most professional voice-overs describe their voices. When choosing the best local professional voice-over, take into account these descriptions. Demonstrations of voice talent usually referred to as voice talent demos or samples, are an important tool when looking for the right voice-over talent.
Review their Demos/Samples
Demos/Samples are essentially a component of a voice-over talent's portfolio of work, delivering various projects, styles, and other instances that showcase the best of their voice-over works. Demos are not the be-all and end-all when choosing the perfect voice-over artist because they can be re-recorded and expertly edited. However, they may be useful in getting a basic concept of what a local professional voice-over talent sounds like. Finding voice-over demos should not be difficult, regardless of whether you are browsing a voice-over online portfolio or trying to find a voice-over professional's own website.
Tempo and Speed
For a variety of reasons, it's crucial to evaluate the tempo and speed of your voice-over.
You need your audience to get your message, which implies giving them enough time to comprehend what it is that you are genuinely attempting to communicate. But you also need to keep the tempo of your story fast enough to keep the audience interested.
Long-term Sustainability
When a video's message has the quality of long-term sustainability, its objective is best served. Everyone has videos that bring back memories for them; even good films that become compelling might cause us to pause our job and watch them. The image of the local professional voice-over and the link it creates with the brand will leave a lasting effect on the audience in this situation of creating a video.
Video marketing content will be seen and heard in the most efficient way possible if the right localization partner is found. Why not speak with us if you want to localize your video marketing content? Depending on your objectives, financial situation, and time frame, we can help you choose the best course of action. Get in touch with us right away.