In today's digital age, video content is regarded as one of the most effective methods of connecting businesses with their target audience. There are numerous options available today, such as social media, advertisements and podcasts, but nothing beats video content when capturing customers' attention. Video content contains various dynamic components such as noise and movement that keep viewers engaged.
Video is the most appealing medium and has a long-lasting impact on viewers' minds. It establishes a connection between the brand and the consumer; buyers can identify with the product or service presented in a video. Video content helps to increase brand recognition and establish the company as a distinct name in the market.
Every business is expanding into newer markets in the hopes of becoming a household name and thriving in its new location. Voice-over translation of content is critical for business localization. Voice-over is a production method that aids television, radio, and other media in telling a story. It is regarded as the best way to preserve the integrity of original video content. The video has been adapted into the local or native language so that locals can understand it. Effective voice-over techniques will improve the message's reach to the intended audience.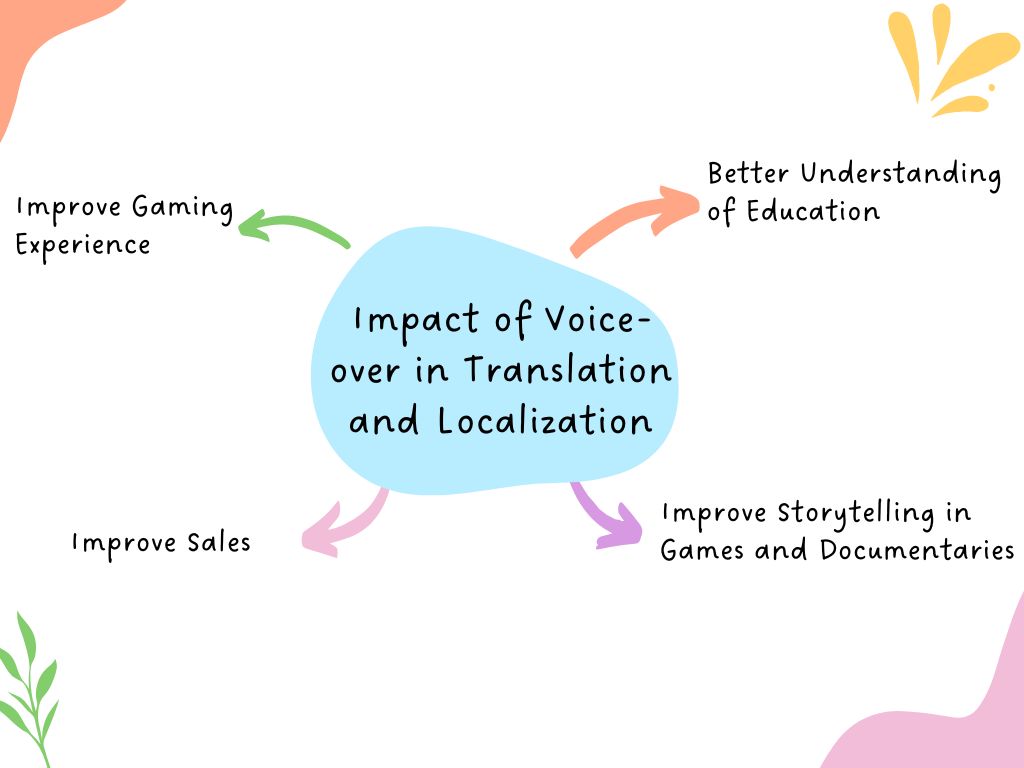 BETTER UNDERSTANDING OF EDUCATION
The Internet has created numerous opportunities, and the education industry is taking advantage of this platform. With the rise of free resources and online courses, learning is now at your fingertips. In fact, universities are beginning to follow suit, with many developing online curriculum for their programs. People are more engaged when there is a human element present – in this case, the voice-over talent. Voice-over engages students while also providing confirmation of the visual context and assisting people in better understanding the information presented.
IMPROVES STORYTELLING IN GAMES AND DOCUMENTARIES
Voice-overs are widely used in all film genres to move plotlines, tell stories, and provide an intimate look into the minds of the characters. They help the film's visual composition to create a stronger audience connection and impact by evoking emotions and providing clarity. Even if a film is not aimed at a foreign-language audience, voice-overs are frequently used to fill in the gaps in interviews and documentaries, often to emphasize points of interest or importance. This creates continuity while effectively communicating a message or carrying the story to its objective conclusion.
IMPROVES GAMING EXPERIENCE
With the help of well-rounded characters and dialogues, developers are creating more sophisticated gaming environments that are believable. Voice-overs are now an essential part of the gaming industry, helping to make the overall experience immersive and real. Voice-over, particularly in role-playing games, contribute to the game's atmosphere. It gives the characters more personality – our favorite heroes and villains are having conversations, and they sound like real people, making the environment more believable. Every day, video games become more cinematic, combining animations, intricate plots, virtual reality, and engrossing auditory support.
IMPROVES SALES
High-quality voice-over translation gives your video a strong voice. It broadens its appeal while also improving your brand's visibility. Investing in voice-over solutions can aid in your sales growth. Your explainer script must be well-aligned with the voice-over translation. As a result, your audience will have a clear understanding of the video and its message. High-quality voice-over can entice your audience to become interested in your brand, ultimately improving your sale and increasing your business revenue.
Voice-over translation can help your business and video content stand out. If you intend to grow your business, voice-over translation can be extremely beneficial. It can help you expand your audience and bring your company into the spotlight. It can clearly persuade your target audience and hold their attention for a longer period of time.